Gravel+ adventure in Uganda
Together with Ridley Bikes and Red Dirt Uganda we created an adventurous branding campaign. For one and a half week we explored the highlands of Western Uganda on the Ridley Kanzo Adventure. Together with two bike tour operators, a local drone pilot, photographer and videographer we created a Gravel Cycling Content Cluster (GCCC).
Next to reaching 380.000 impressions on the Fatpigeon Instagram the media of this Gravel Cycling Content Cluster went to all parties associated, was published online, was printed in magazines and featured in several commercial film evenings.
This article below was published on Gravel-Union.cc
Exploring Red Dirt Uganda
Our friend Thies underlined that he too had been to Kenya, several times actually. But still he countered our 'Kenya was really, really, beautiful' with the cool and convincing "You liked Kenya? Wait until you experience Uganda."
"You liked Kenya? Wait until you experience Uganda."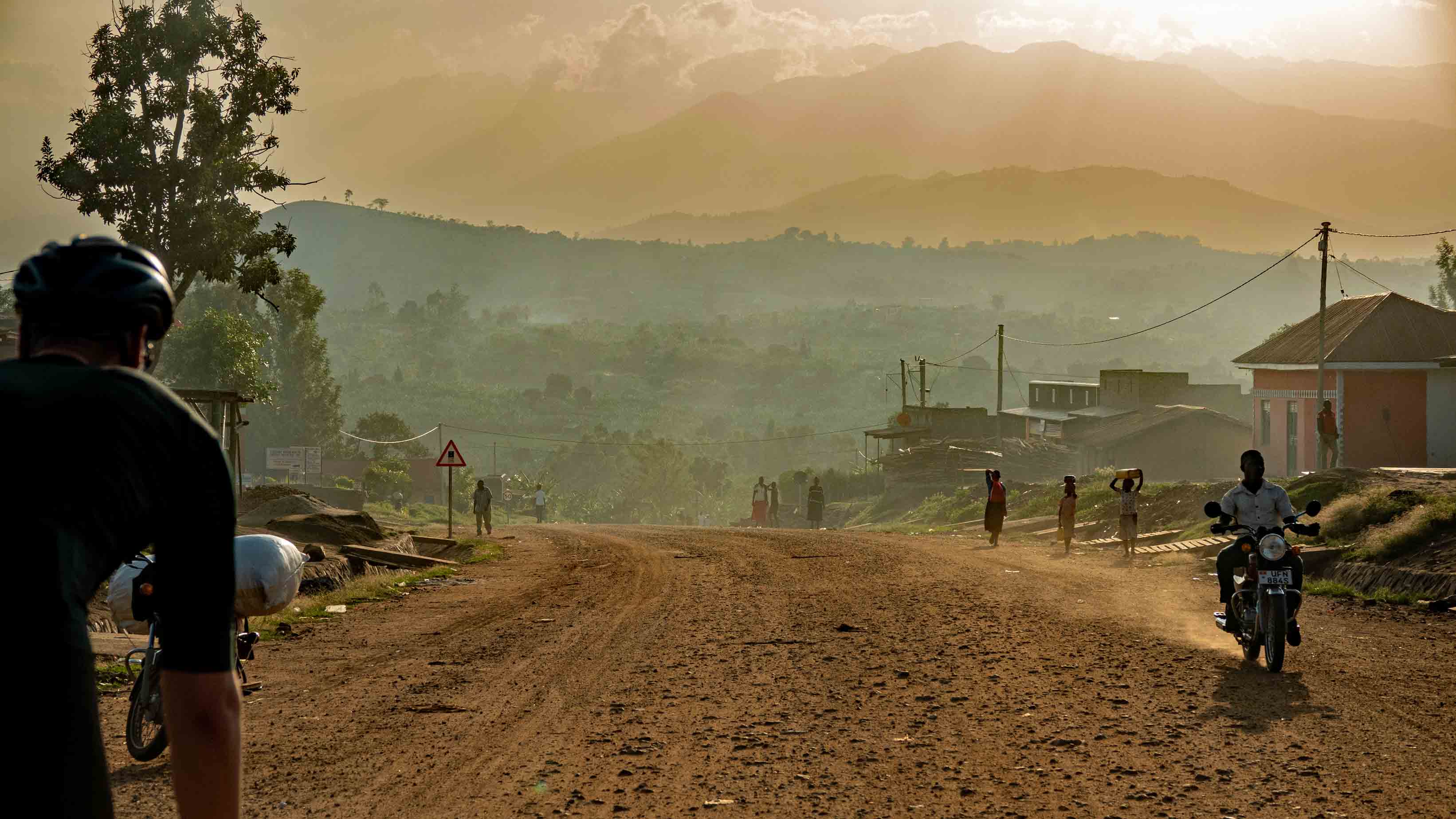 Although our weekend agenda prescribed 'Saturday morning gravel' and 'Bowling with family' our minds were occupied by the WhatsApp chat we had shared with Ralf from CycleTravel. He signalled that he was super keen to scout unknown gravel territory for his platform and we acknowledged that we were extremely keen to explore the endless red dirt gravel switchbacks that Thies talked about.
We didn't know how, we didn't know when, but we did know we were going to Uganda.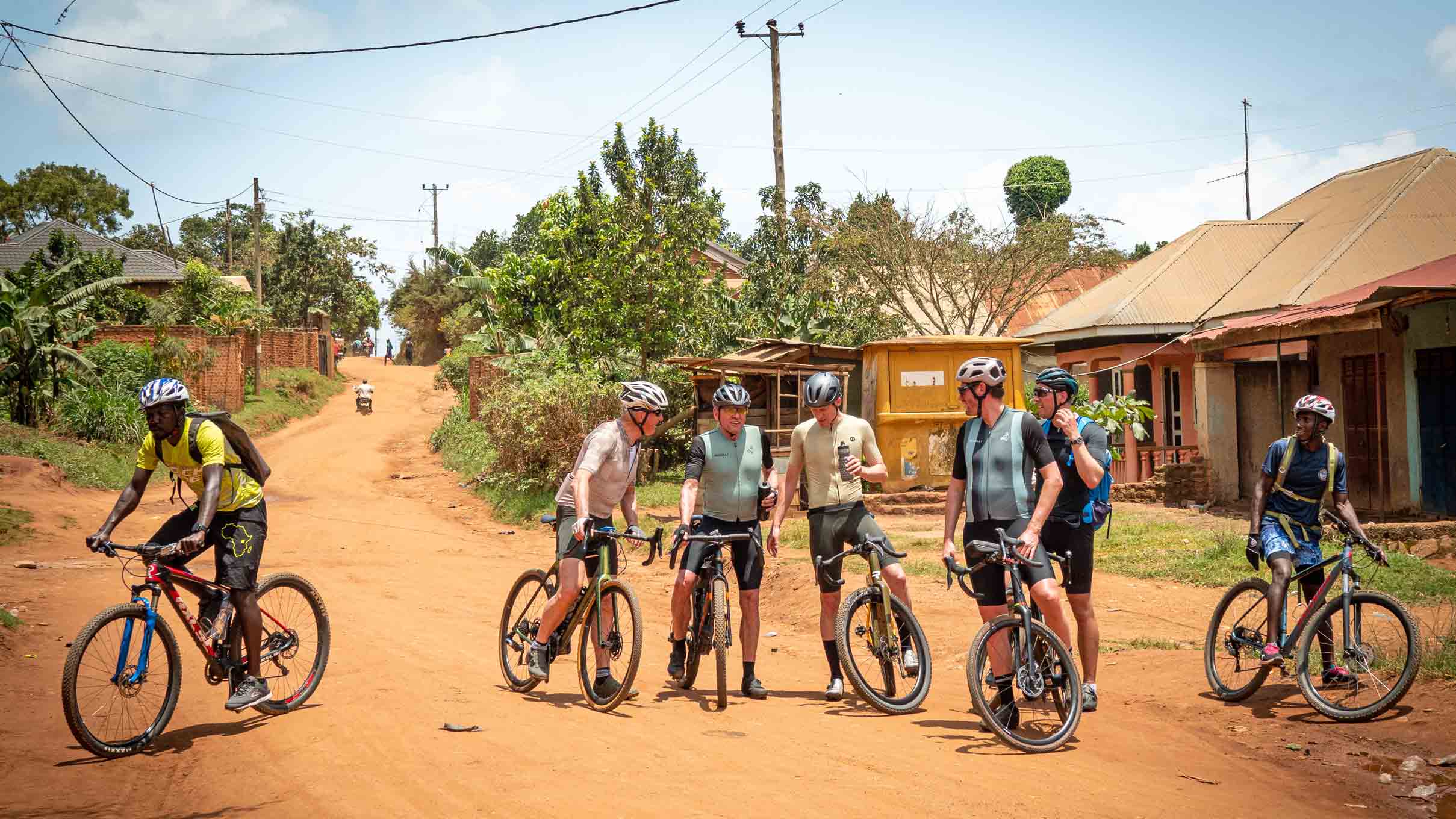 One bike to rule them all
It was the beginning of September and we were sitting in the meeting room 'Paterberg' at Bike Valley. Bike Valley is home to the Belgian Cycling Factory, Ridley Bikes, Eddy Merckx, a wind tunnel and an incubator for several innovative start-ups from the bicycle and mobility industries. We had driven to Belgium from our homes in Holland for a meeting with Pieter Potters, R&D Manager at the Belgian Cycling Factory, because he had some news to share with us.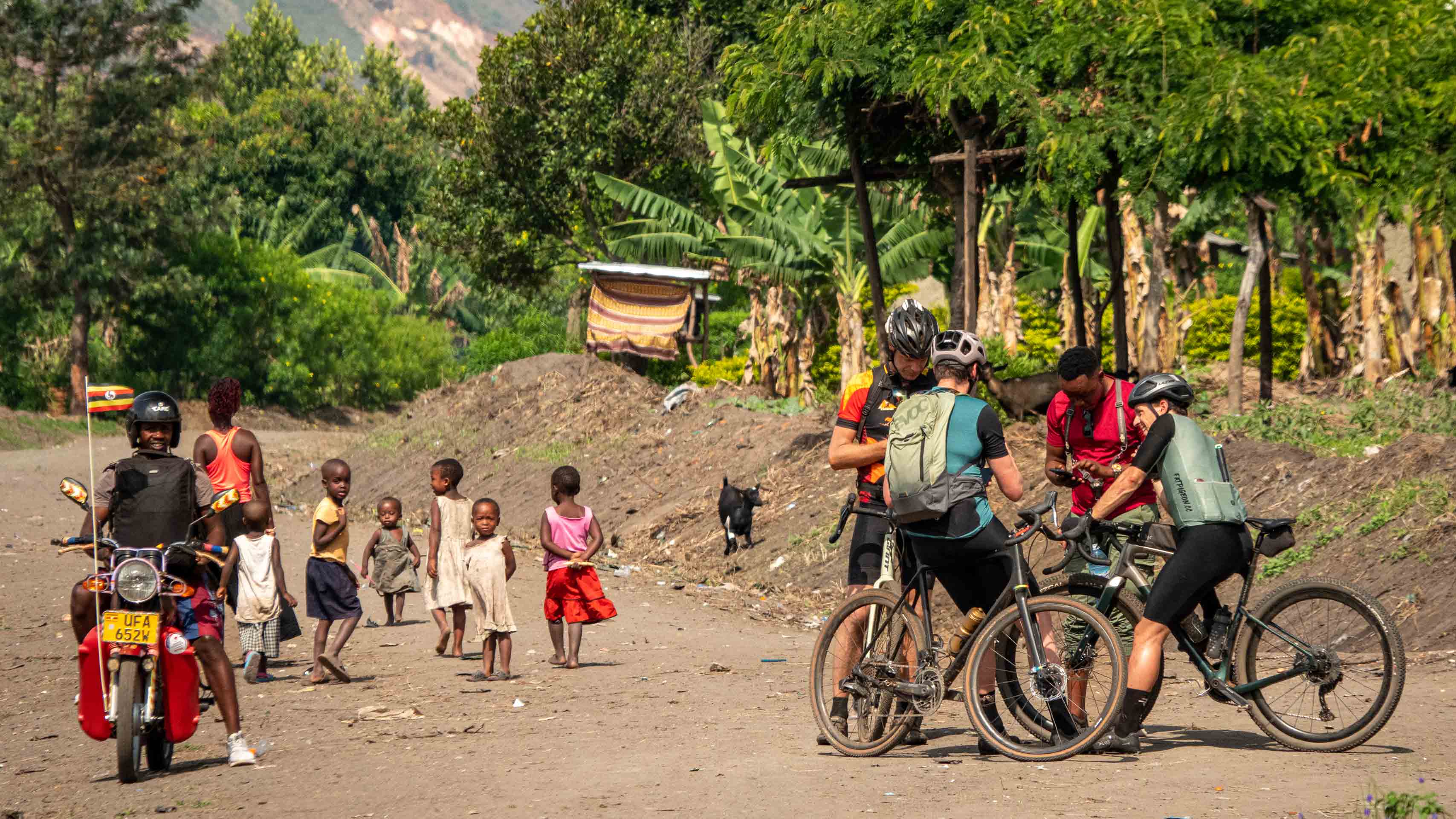 Giving it our best Dutch shot we follow Pieter's lead with 15 minutes of talking about cobbles, the best grease for bottom brackets and whether or not we should upgrade to ceramic… well, ceramic everything. Right before we dare to interrupt the passionate conversation, Pieter stands up and waves an inviting 'ok, enough of that, follow me will you?'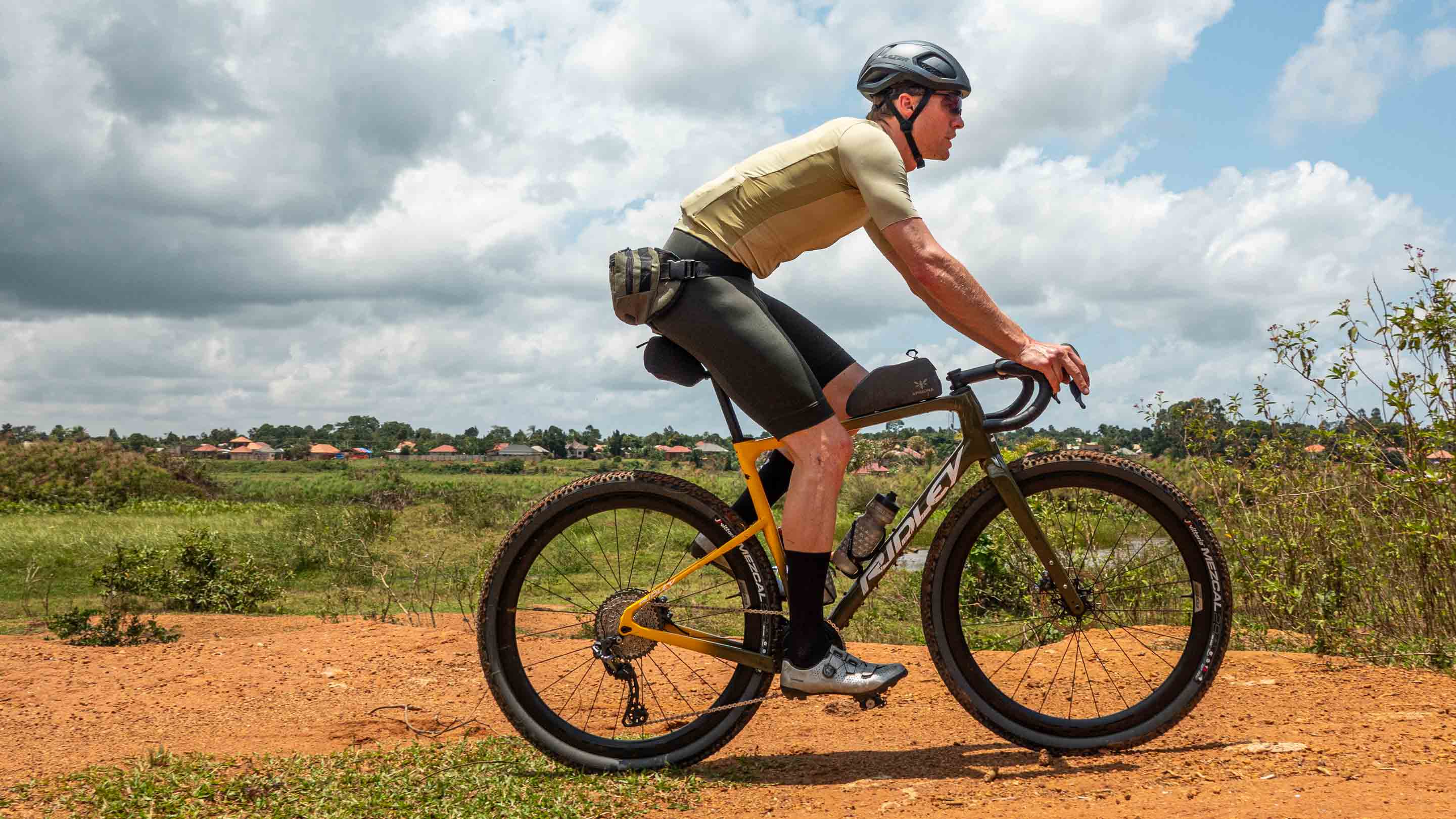 From the meeting room we take the 'stairs of Ridley champions' (with the names of impressive Ridley riders and their achievements engraved) to another part of the site. We enter the R&D department. To the left and right of us we see shiny bike experiments that may or may not ever see the light of day, but Pieter waves again: 'follow me guys, come on, up here'.
"The perfect adventure bike for the Ugandan gravel route recon!"

– Nol, Fatpigeon.cc
"Here she is'"
"Pwoaaaaahhh" we simultaneously exhale. "Haha, what is this thing?". In front of us stands Pieter and his team's latest creation. "Clearance for 29" MTB tyres, extended frame, integrated cable routing for dynamo lights, forgiving geometry, enough bolts to pack for your wildest off-grid bikepacking adventure" Pieter sums up calmly. "This is THE perfect bike for the Canary Island GranGuanche Trail Ultra and the Ugandan gravel route recon!" we reply.
We agree on three things. One, Ridley's #monstercross gravel bike seemed too cool to be true. Two, we need to ride and film this Ridley Kanzo Adventure before its official release during the GranGuanche. Three, we want to ride and film it after the official release in Uganda to show the endless variety of terrain this bike could handle.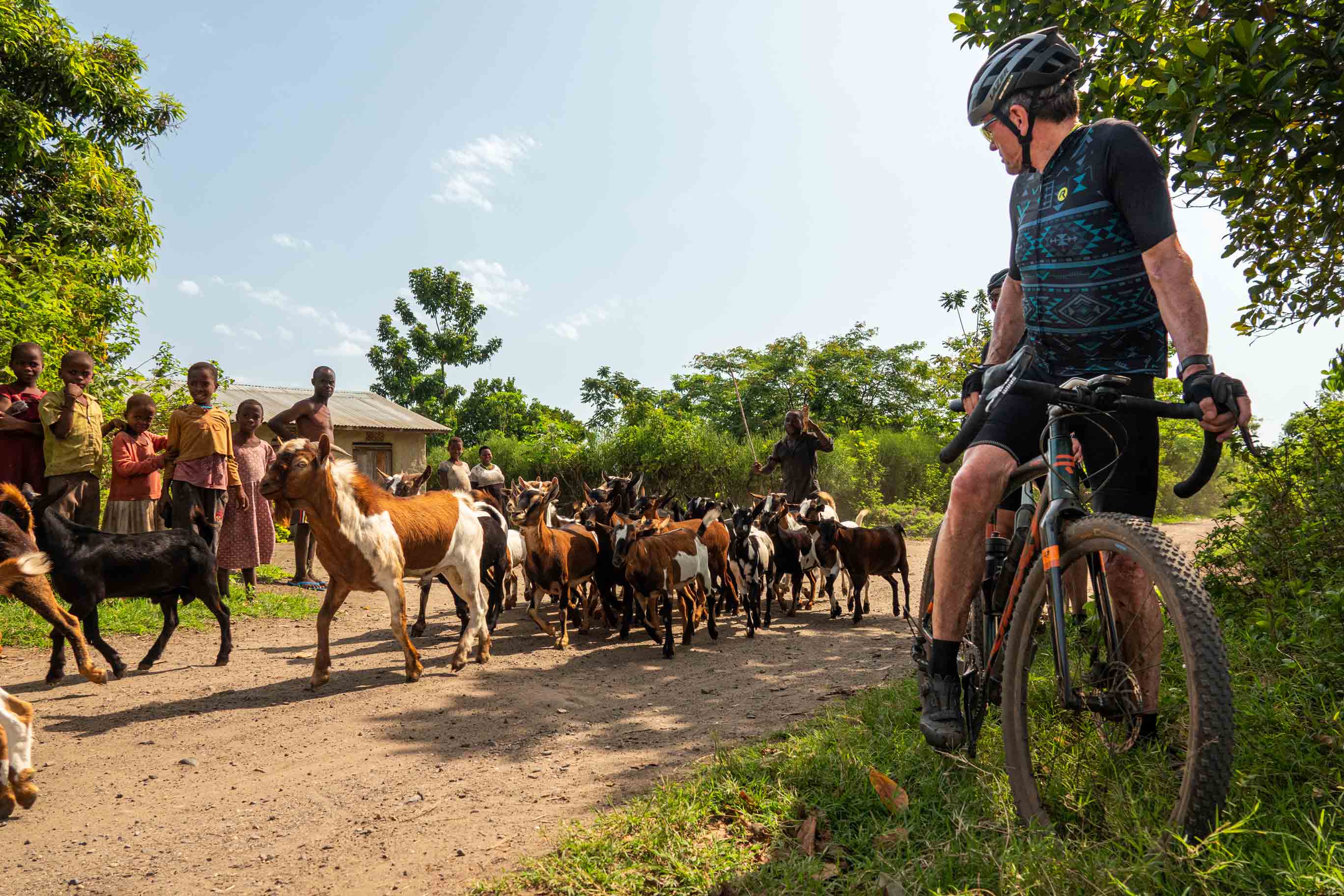 Embracing the unknown
Our visas were granted and the PCR tests were negative, so after an easy flight with a short stop at Kigali, Rwanda, we landed in Entebbe, Uganda. Ahead of us and a few other adventurous riders lay the big unknown of Uganda. Because what did we really know of cycling in Uganda, or even Uganda at all in fact? Not much really. The country had a very rich history for sure. It had freed itself from its colonial past, but then experienced a long and gruesome dictatorial low. Only to restore and increase its freedom, self-reliance and natural resources over the past five decades. In our world of constant information overload, is there really anything bad in not knowing 100% what to expect? Before we left home, we decided to take the country as it would appear in front of us. A flexible mind, two #monstercross gravel bikes and Thies' Red Dirt Uganda guidance would get us a long way, we decided.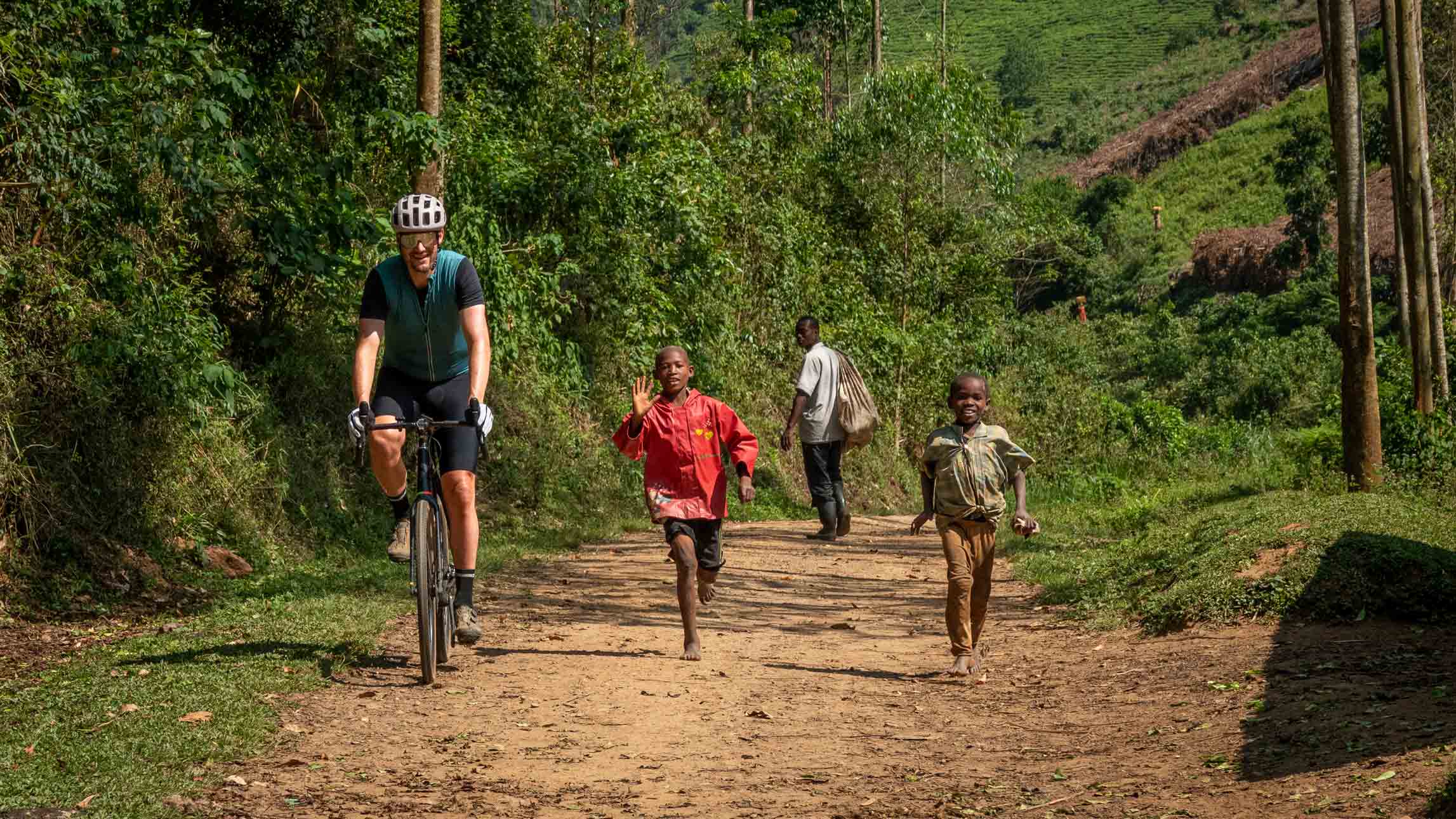 Gimmemoney
In the 10 days that followed we were absolutely starstruck, or rather, #gravelstruck by our experiences in Uganda. At every possible roadside shop, rural mountain village, basic lodge, school or lavish lodge we were greeted by smiling Ugandans and a warm 'Karibu Uganda', which means Welcome in Uganda. Yet it would be also unfair to not tell you about the most frequently heard phrase or word of this adventure. It probably originated from 'give me money', but it sounded more like 'gimmemuney'. From the low plains to the very high and even in the remote gorilla mountains there was not a single non-English speaking kid below the age of ten that was not greeting us, running behind us, or shouting 'gimmemuney'! In fact, it seemed so omnipresent that we questioned ourselves if a few millionaires had toured Uganda the week before us.
"80% of our riding was on perfect, smooth, wide, endless red dirt gravel" – Loek, Fatpigeon.cc
Uganda has it
Enough about bikes, history and linguistics. What about cycling in Uganda? What about the sights, the hills, the paths, the wildlife, the food, the whole experience?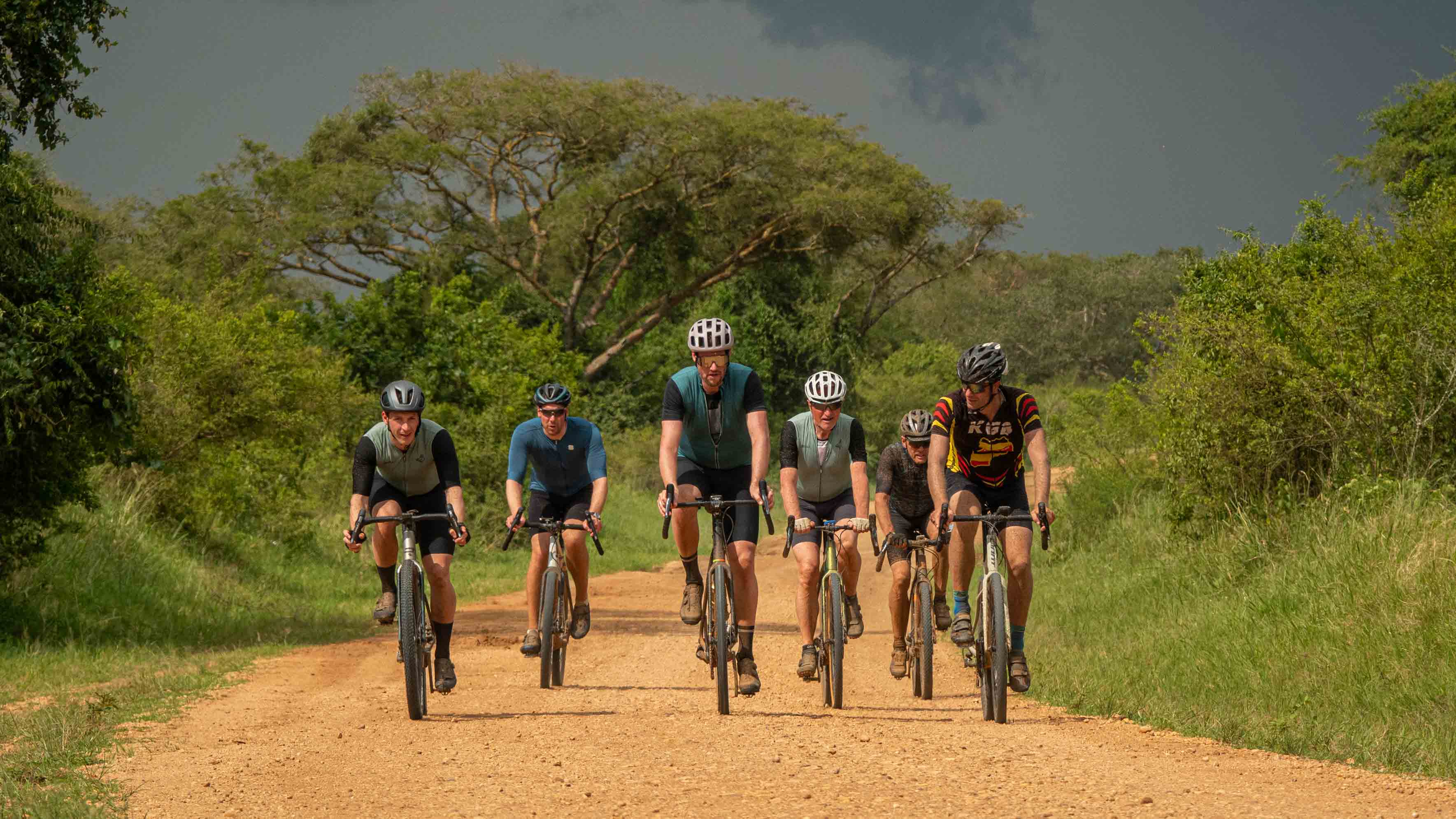 To put it plainly: Uganda has it. Thies was right when he said that experiencing Uganda has nothing to do with having or not having visited any other county. For the majority of the year it has a comfortable climate and is not too humid. Alongside the sparse paved road network Western Uganda has 98% unpaved roads which are very low on traffic. The traffic that we did see, saw us coming and left a really big distance to us while overtaking. Of the 400km we rode, about 350km was gravel, of which 80% was perfect, smooth, wide, endless red dirt gravel. From crossing the wildlife rich Queen Elizabeth National Park to twisting and turning high up in the mountains, gravel cycling in Uganda is the stuff you dream about. It's exactly that perfect crackling sound you hope it is. The stuff you read these articles for or watch films with titles like 'Top 10 most epic gravel heaven roads'.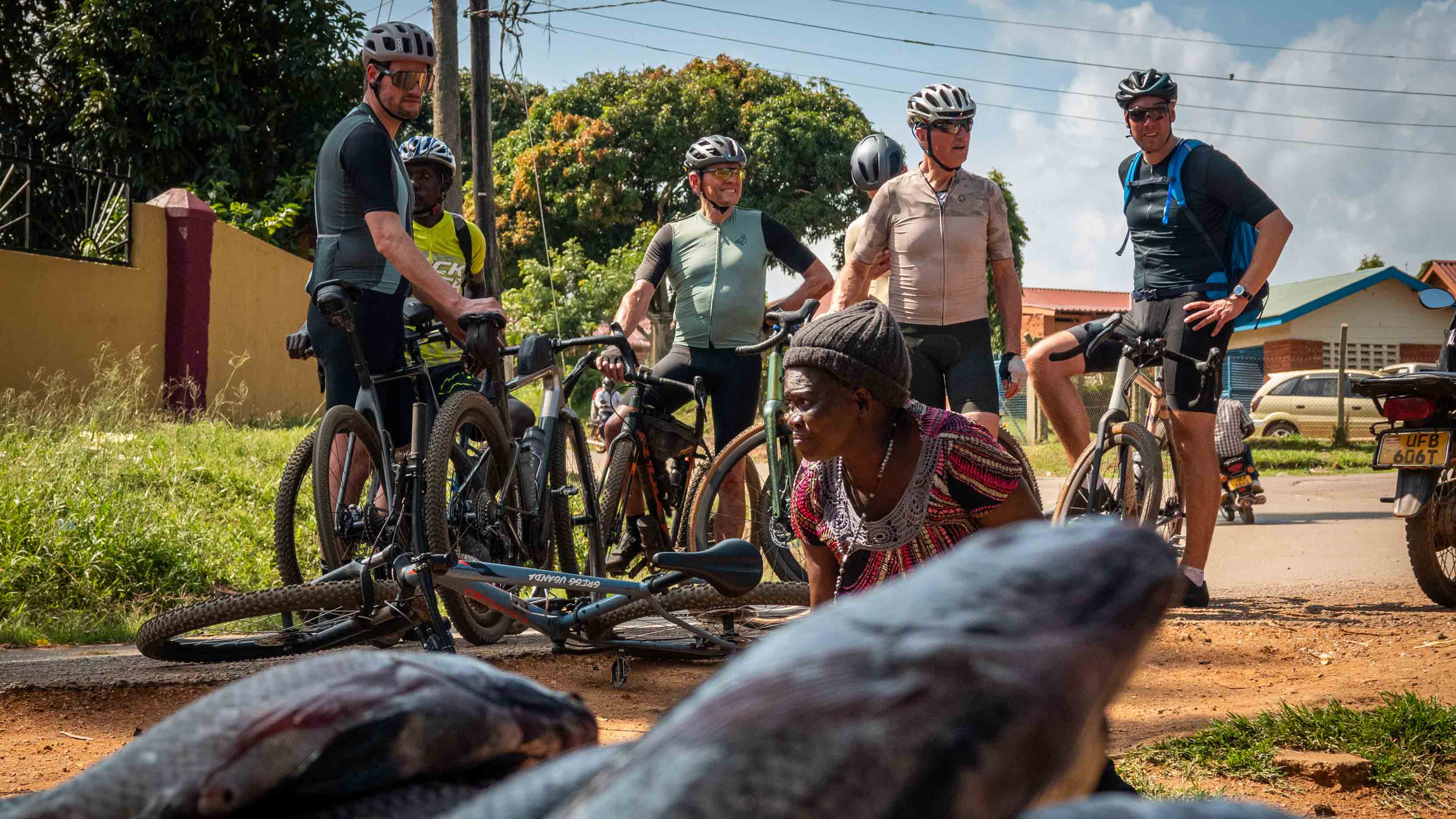 Three more things
This feels like an appropriate moment to let your mind wander at the sight of some of the moments we captured. There are three mini stories within this adventure that we'd like to share because they made such an impression on us.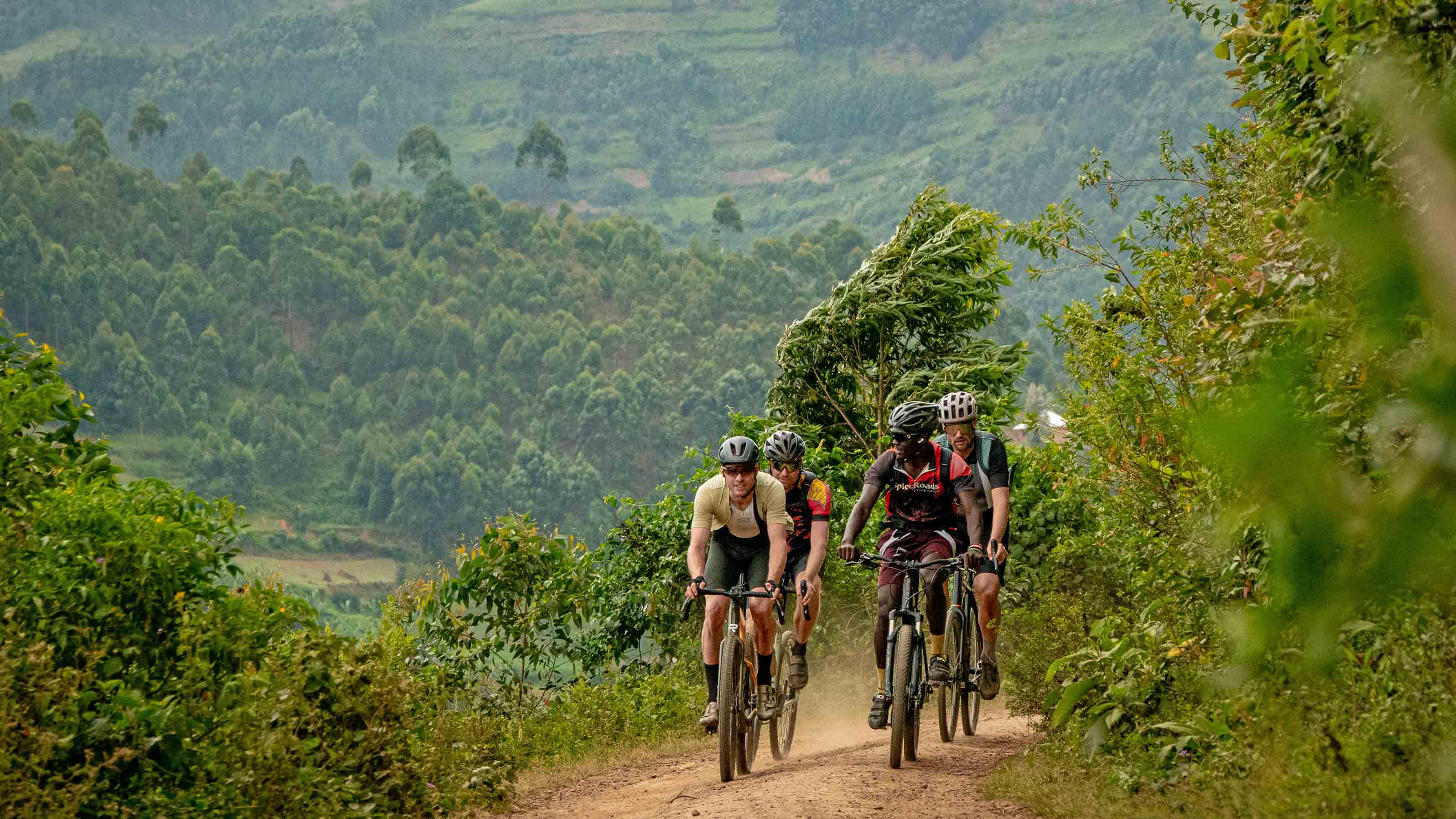 Highlight 1 – Uganda is for everyone
Uganda is beautiful and exotic but is also open for all levels of riders. We went high up, we downhilled fast and we saw single track, but we mainly saw beautiful gravel roads and acceptable climbs. For the full adventure we were followed by an off-road support van. But the van was only used once or twice by a rider of our group and event then only on the hottest and steepest of days. In fact, Nol's father Paul (65), Ralf's father Harrie (76) and Birgitte (56) all had different reasons to be a little anxious at first. Everyone looked back on a beautiful, successful and enjoyable week on the bike afterwards.
"Coming across these beauties evolved our already amazing bike adventure into an unexpected bike safari." – Loek, Fatpigeon.cc
Highlight 2 – Face to face with elephants
Every year huge flocks of tourists fly and drive to the destination to come face to face with gorillas or elephants. Although we didn't plan on seeing elephants (or book any of the available gorilla tours) we did get face to face with elephants while cycling. On several occasions too! It was absolutely amazing and a true spectacle to see those majestic mammals up close. Although at home we don't always stop to admire a stunning scene or a rare sight, we certainly did here. We felt very fortunate to come across these beauties and it evolved our already amazing bike adventure into an unexpected bike safari. PS. not to mention the many black and white colobus monkeys, red-tailed monkeys, giraffes, gigantic horned ankole cows and birds in all colours of the rainbow that we also spotted.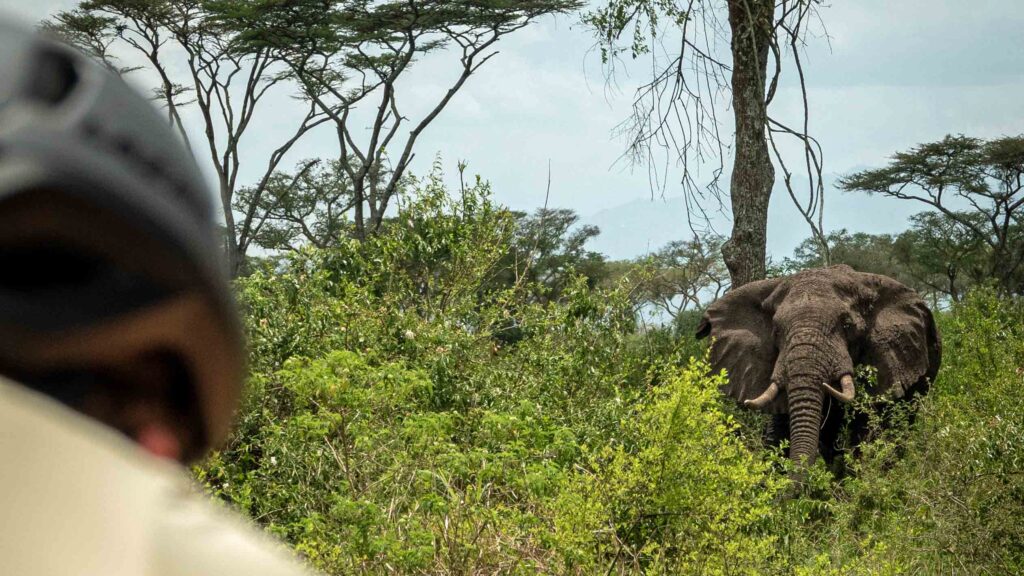 Highlight 3 – Surprise swamp
Did we mention we were riding the route to see if it was acceptable for a gravel cycling holiday? Well, we were. Some parts of the route were a piece of cake, and others, were quite a challenge. On stage 5 we crossed a really nice mountain range and were given two options to cross the subsequent valley. Via a very nice twisting gravel road or via a swamp 'that might or might not be crossable'. With an appetite for adventure, we opted for the swamp crossing. While Loek seemed to follow something resembling a path through the swamp, Nol steered the drone over the dark and gloomy reeds, right up to point where Loek disappeared into the swamp! And he stayed down for a few seconds. Luckily Nol and the drone got sight of him again while Loek was being pulled out of the sucking mud by a friendly local. Haha, we're happy to have it on tape!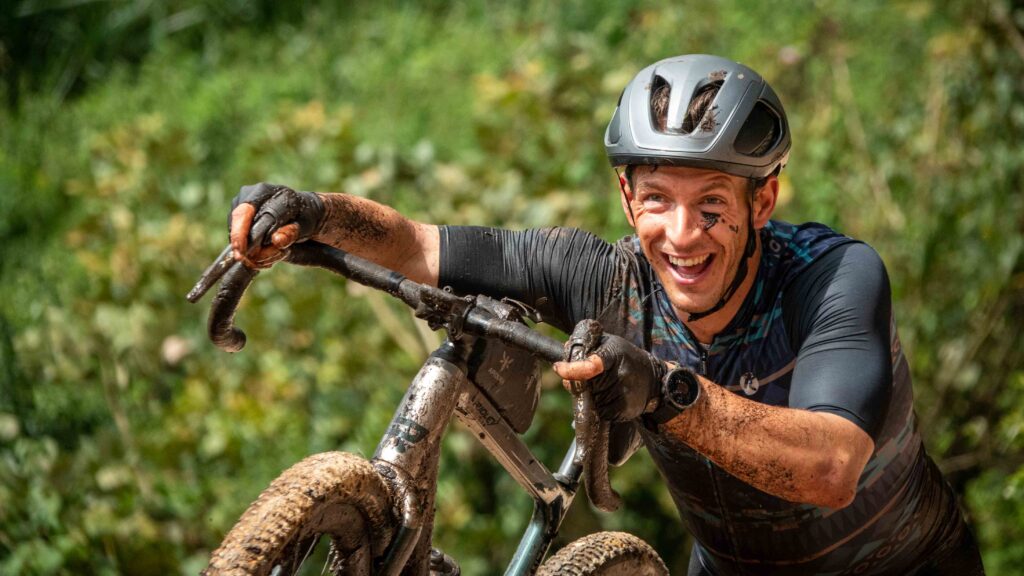 Traveling with your bike is always a good idea. Adventure can start at your front door, but a faraway place can certainly lead to special experiences too.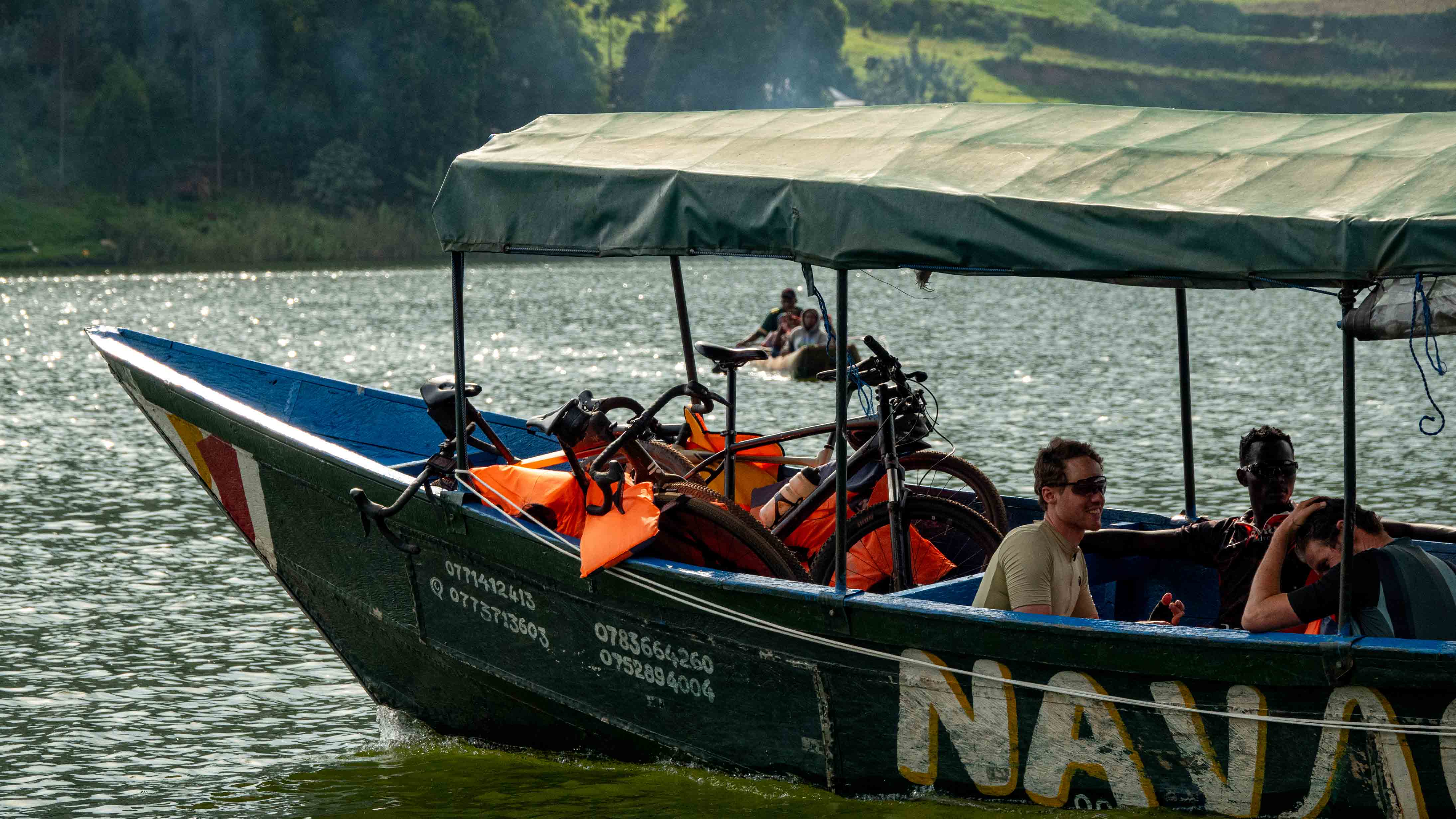 Conclusion
Traveling with your bike is always a good idea. Adventure can start at your front door, but a faraway place can certainly lead to special experiences too. For us Uganda earned the confidence and trust it deserves to get. The land of the red earth, gorillas and elephants is beautiful, exotic, easy to travel, consumer prices are low, the people are friendly.
Kenya was beautiful, but yes Thies, Uganda is just as beautiful!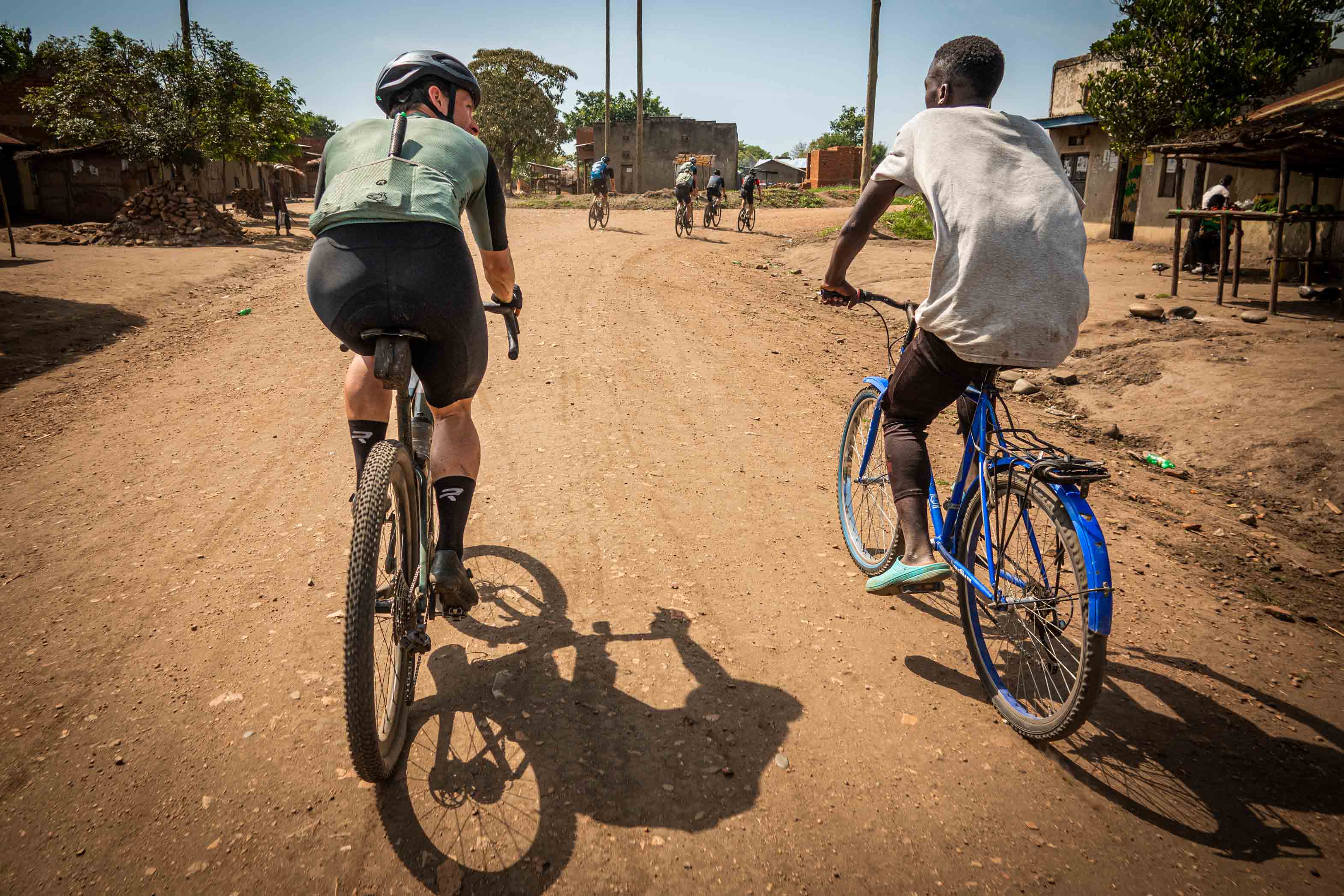 Read on or ask us your question 🙂